Tantei Opera Milky Holmes (Music)
Edit
Tantei Opera Milky Holmes Season 1
Edit
I only got the opening song on my cellphone (Sekai wa Hitotsu! Ja Nai!!). The ending is kinda...ehem!
Here are some musics from Tantei Opera Milky Holmes SEASON 1. I haven't seen the season 2 musics yet. But I know some of it.
Tantei Opera Milky Holmes Season 2
Edit
OPENING-Nazo? Nazo? Happiness! (Mystery? Mystery? Happiness!)
Note: Pls. add more!!!!!
Edit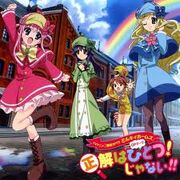 Ad blocker interference detected!
Wikia is a free-to-use site that makes money from advertising. We have a modified experience for viewers using ad blockers

Wikia is not accessible if you've made further modifications. Remove the custom ad blocker rule(s) and the page will load as expected.