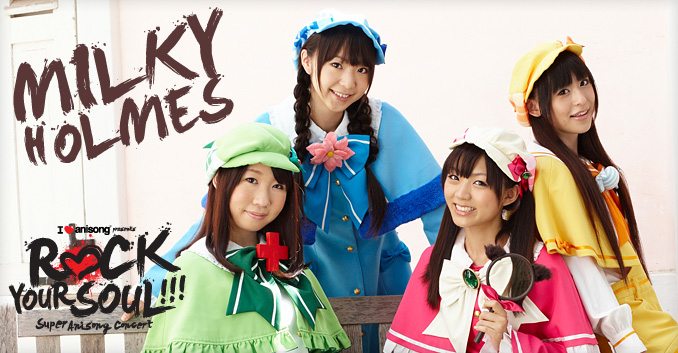 Milky Holmes was turned into a singer group that was formed in 2010 to promote the four detectives even more. The group Milky Holmes (ミルキィホームズ) is made up of the four main seiyuu of the anime and game Tantei Opera Milky Holmes (探偵オペラミルキィホームズ), Mimori Suzuko (三森すずこ), Kitta Izumi (橘田いずみ), Tokui Sora (徳井青空), and Sasaki Mikoi (佐々木未来).
The four seiyuu are put in cosplay of the girls they provide voice for, however if you are still not positive on which one is which here is a small reminder:
Sherlock Shellingford (Pink) is Suzuko Mimori [三森 すずこ]
Nero Yuzurizaki (Yellow) is Sora Tokui [徳井青空]

Cordelia Gray (Blue) is Izumi Kitta [橘田 いずみ]
Hercule Barton (Green) is Mikoi Sasaki [佐々木未来]
Milky Holmes sings the theme songs and character songs for the anime and game, the group has been tasked to sing the Opening songs and OST for "Tantei Opera Milky Holmes" as well as its OVA. Releasing a couple of CDs, here they are as follows:
Currently under the group, they have 1 maxi-single, Colorful Garden, consisting of 6 songs.
Ad blocker interference detected!
Wikia is a free-to-use site that makes money from advertising. We have a modified experience for viewers using ad blockers

Wikia is not accessible if you've made further modifications. Remove the custom ad blocker rule(s) and the page will load as expected.